Weddings in the North - Kasalang Filipino 2009 - Dagupan Leg
20 February 2009
The capital of Pangasinan, Dagupan City, is known as the home of the famed bangus (milkfish) Dagupan. This fat, short tailed and small headed fish has captured both local and foreign palate. From March 14 - 15, 2009, Dagupan will transform from bangus haven to one of the best wedding destinations here in the Philippines through Weddings in the North - Kasalang Filipino 2009 - Dagupan Leg to be held at the CSI Stadia in Lucao District, Dagupan City.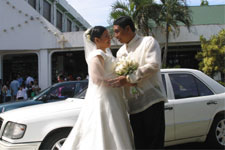 Look of Love.
A newlywed couple stands beside their
bridal car while staring at each other
Photo courtesy of Ariel Javelosa Photography
Kasalang Filipino 2009 is a nationwide wedding fair road show which ties twelve (12) Philippine cities with one goal of promoting the local wedding industry. The following are the 12 cities of the 2009 road show – San Pablo, Tagaytay, Tarlac, Dagupan, Legazpi, Dumaguete, General Santos, Cagayan de Oro, Davao, Bacolod, Manila, and Cebu.
Dagupan as the fourth leg of Kasalang Filipino 2009, co-presented by Kasal.com and ABS-CBN Regional Network Group, will showcase North Luzon's best wedding suppliers. Numerous activities have been lined up for attending couples such as talks on wedding planning and wedding trends, cooking and food preparation demos, wedding table setting displays, bridal fashion show, and bridal makeup competition made possible by Ever Bilena. Lucky couples will get a chance to win free wedding giveaways, honeymoon packages, and appliance showcases during the bridal fair.
Admission is free. Register online at www.kasal.com to take part in this nationwide bridal road show. For inquiries, contact CSI Stadia at (075) 522-8622, 523-1791 or Kasal.com at 415-9249, 414-3596 or email kasal.com@gmail.com, info@kasal.com.

Kasalang Filipino 2009 is co-presented by Kasal.com and ABS-CBN Regional Network Group and made possible by Max's Restaurant, Ever Bilena Cosmetics, Goldilocks Bakeshop, Hewlett-Packard Philippines, Ariel Javelosa Photography, QP Designs, and the following media partners: Lifestyle Network, Sky Cable, WRR 101.9, My Only Radio, Metro Weddings, Metro Home, Food, Foodie, Flavors Magazine, China Business Philippines, The Manila Times, Business Mirror, Philstar.com, Tsinoy.com, and LocalDirect.com. Technology partners are Touch Solutions, Toshiba, Bitstop Network Services, and Too Many Memory.