A Magayon Wedding Fair
10 April 2007
Mayon volcano.
Abaca.
Bicol express.
Pili nuts.
Only one place comes to mind - Albay.
Now, think of the majestic Mayon as your romantic wedding backdrop, the famous Abaca silk (pinukpok) as your elegant wedding gown, Bicol food as your sumptuous wedding feast, and various delicacies as your wedding favor choices. And only one image comes to mind - A Magayon Wedding.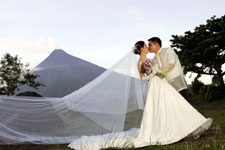 Magayon Wedding Fair
Photo by Ariel Javelosa Photography
On April 27-28, visit Pepperland Hotel in Legazpi City, Albay and witness the unveiling of the province's local wedding industry. Meet the best wedding suppliers in the area that can make your dream Bicolandia wedding a reality. A complete wedding setup will also be displayed in the event's satellite venue in downtown Pacific Mall.
Hosted by Pepperland Hotel, this wedding event is the 2nd leg of Kasalang Filipino 2007, which ties ten (10) key cities in the Philippines with one objective of promoting the local wedding and tourism industry.
The following are the 10 cities of the road show - Tagaytay, Legazpi, Dumaguete, Iloilo, Tarlac, Cagayan de Oro, Davao, San Pablo (Laguna), Manila and Cebu.
Come and join the launching of Albay's wedding industry. We prepared the following programs and activities especially for you, to make your visit more than worthwhile:
- motorcade, musical performances
- exhibit of unique wedding gowns
- themed wedding displays
- FREE pre-nuptial photo sessions, food tasting
- discounts from exhibitors, giveaways, raffle prizes
- pre-wedding seminar to to-be-weds
- wedding-related talks/demos, with guest speaker well-known wedding event stylist Henry Pascual
- special fashion show from one of Bicol's promising fashion designers, Jhun Lee
ADMISSION IS FREE! For the complete event program and to register online, please visit http://www.kasal.com
My Kasal subscribers who attend the event get a special gift item from us! Just present a printout of your online registration.
See you in Legazpi City!

Kasalang Filipino is a nationwide wedding fair road show aimed at tying 10 Philippine cities with one goal of promoting the local wedding industry. The following are the 11 cities of the 2007 road show - Tagaytay, Legaspi, Dumaguete, Tarlac, Iloilo, Cagayan de Oro, Davao, San Pablo, Dagupan, Cebu, and Manila.
Kasalang Filipino 2007 is co-presented by Kasal.com and ABS-CBN; and is made possible by Philippine Airlines, Fuji-YKL, Chinabank, Standard Appliances, Colgate-Palmolive, Ever Bilena Cosmetics, Red Ribbon Bakeshop, Red Hat, MozCom PayEasy, QP Designs, Ariel Javelosa Photo & Video, Bitstop Network Services, and the following media partners: ABS-CBN Regional Network Group, Lifestyle Network, SkyCable, DWRR, My Only Radio, Metro Weddings magazine, Philippine News, Manila Bulletin's About Weddings, Business World, Business World High Life, The Manila Times, Real Living magazine, Flavors magazine, Entrepreneur magazine, The Beat magazine, Sun.Star, OFW Ngayon, Media G8way, loCalDirect, Philstar.com, Yehey.com, HerWord.com, PinoyExchange.com, DigitalFilipino.com, Tsinoy.com, Trabaho.com and ThePinoy.net.